My Barony of Raven's Fort
---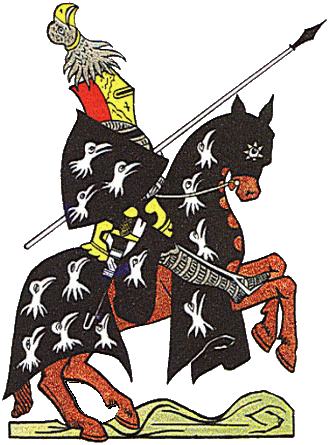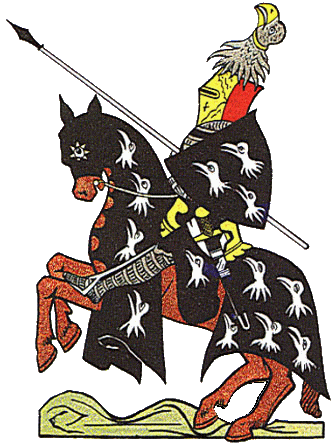 Welcome to my "Special Interest" page on the Barony of Raven's Fort, a branch of the Society for Creative Anachronism in the Kingdom of Ansteorra. It is an organization dedicated to the study and recreation of the best parts of the Medieval Ages between 600AD and 1600AD. Our group is based in Huntsville, Texas, however the SCA is an international non-profit organization comprised of 13 kingdoms worldwide.

If you are new, please allow me to welcome you! If you already play, I greet you, friend! I am Lady Jacinth de Warwick, and I have been a part of the Current Middle Ages for about 13 years (a very lucky number for me). If you have visited my homepage, then you have an idea of what parts of the Middle Ages interest me. I enjoy the arts and sciences of the age, especially. I am not much of an expert in the martial aspects of the era, but there are many pages out there specializing on that, and I don't need to belabour a point that I am not passing fair in. To those that are new, I encourage you to read on, and those who aren't... well... you are welcome to read, but are not likely to find anything you haven't heard or seen in being introduced to the Society. For the most part, this page is just a small introduction into what it is like to be in the society, and these were some of the first things I learned. [I was confused for a while.] It is not necessarily the best way to introduce our ways, but I am always open to suggestions other than telling gentlefolk to go to the official pages (SCA, Inc. and Ansteorran Homepage).

To begin with, in participating in the Society, members usually choose a name, time period, and country which is used as a starting place for research. I began in the 13th century, within the boundaries of Warwickshire, England. I picked the time because I liked the clothes... sideless surcotes are still a favorite of mine. As a matter of course, it is usual practice to build a personal history in keeping with the chosen time period. I am sad to say that I have not followed the creation of a persona story... at least one I can keep. I have toyed with it when convenient, but I am much more interested in studying and sewing neat costumes (which are almost never in the same era... I have everything from Viking to Renaissance); I am afraid I am pretty much a garb hog. I do try to keep each as authentic as possible, though.

My current job for our Barony is Chronicler. Basically, I produce our local newsletter, the Quoth the Raven. It is a fun job, probably the best office I have held among the many for which I have volunteered. I recently changed the deadline for publication to the third Thursday of each month prior to the month of publication. I used to scramble to put things together when I only gave myself two days of prep time (sometimes less) in the hopes that someone might decide to submit something late. I found that this is hardly the case. Getting people to publish articles is like pulling teeth, I learned. My current bounty on original articles with bibliography is one dozen coin of the realm (cookies). If that doesn't get them in, I don't know what will.

I live in the southernmost portion of my Barony, which is mundanely called "South Montgomery County". It is just north of Houston, Texas. On the first Thursday of every month, we have a meeting called "Populace" in which members may gather to hear news and make announcements. Officers give reports on their respective activities, and it is generally a time to visit. It takes about 45 minutes for me to get there, so I generally only make one trip per month to the Baronial seat, although there are activites occuring weekly. When I say activities, I mean get-togethers where there is usually a common thread of interest. For instance, I am interested in Calligraphy and Illumination (pretty writing and painting on parchment). I have an informal gathering at my home once a month where people who are local to me are welcome to come and participate in like activities. One time, we painted award scrolls and made valencye (fried oranges - a medieval recipe). We had a good time with that. One of the reasons I have people over to my house is due to distance constraints. Unfortunately, most people in my area are far from the usual gatherings. Obviously, there are many meetings in Huntsville; as well, there are meetings in South-west Houston within the Barony of Stargate, our neighbor. Both are really inconvenient for gentles in my area to attend, so I try a "home-grown" approach. Anyone interested in participating can join our area mailing list.
---
This page is maintained by Jacinth de Warwick.
Disclaimer:
This is an unofficial page and is not produced with the blessings of the Barony of Raven's Fort. It is not a publication of the The Barony of Raven's Fort, nor is it a corporate publication of the Society for Creative Anachronism, Incorporated, and does not delineate SCA policies. This page is for personal use only, and was written as a forum within which I may express my personal feelings and interests.
Copyright Statement:
Contents copyright © 1999, on reprinting articles and artwork from this work, please contact the webmaster , who will assist you in contacting the original creator of the piece. Please respect the legal rights of our contributors.
Last Revised: April 22, 1999