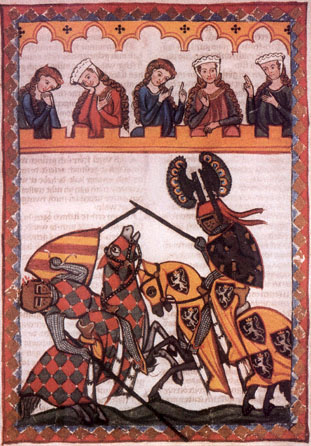 Primers and Other "How-to" Documents
Materials
Calligraphy
Historical Works
Examples of Contemporary Works
Background and Historical Info
Artists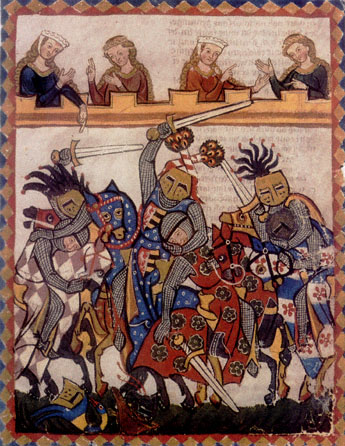 Best all-around primer I've seen yet online. Written by Åke Eldberg.

If you are ready to show your stuff off, this one's got some pointers for you.

By Diane Calvert... Nice! Gives limited instructions on techniques for a book of hours.

Nice summary article on the techniques in paintings of the Renaissance.

Helpful hints and pointers.

Boy, have I hit the jackpot... For any who is interested, the Kingdom of Atlantia has a WONDERFUL collection of articles online having to do with Calligraphy and Illumination. Written by our own "peers" if you know what I mean! Those Atlantian's are really with it. :)

I saw this and just about fell over! Who ever said the Laurels hardly ever share their secrets with us poor schmucks were wrong. This is an extremely well done article!


These folks really like their paint. They have online information about what is paint, dispersions, how to make paint, and recipies for binders. This is a real must if you want to try to do things from scratch.

Postings on the Rialto about references on paints and making them.

A summary of materials....

Roman, Uncial, Carolingian, Gothic... this site is pretty nice.

A beginning point for reference materials. Has some pointers for lefties.


A delightful look into the craft of inconography (which I feel is close to early medieval illumination).

The quintessential example of a Book of Hours.

The first word out of my mouth when I saw this site was "OOOOOOH!" Good background information and links to other "megasites" of info.

Wonderful up-close pictures, along with information. Geared towards school-age kids in Brittain, but nice all the same.

You have to do a little digging here (darn frames), but worthwhile.

A large collection of links for medieval art, including manuscripts, sculpture, and the like.

As if I don't have enough pictures... but this one has very nice descriptions along with them.


I looked long enough for this.... a modern example of "White Vine" Illumination.

Nice modern examples of medieval styles of illumination.

Pictures rather than references. Contemporary medieval art from an SCAer, and some information on medieval implements of the scribal arts.

Wonderful collection here, too, of modern versions of medieval masterpieces (what a mouthful, huh?). Very much worth the look.


Can I say "Wow!"? This is a really good place to get the background on how they did it.

A page put together by the Utah Museum of Fine Art. A good introduction on different styles.

The root page for the above reference. Gives more background and also points to pages with more detail.

A research paper by a student at UT.


A list of women artists in the medieval ages. No big deal, but ladies should have rolemodels.

Guest Book | Email | Home

Jacinth
Revised: June 4, 1999