KIOSK SERVING COUNTER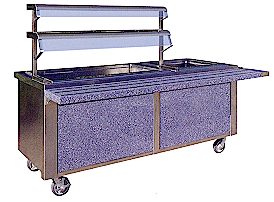 | | | | | | | | |
| --- | --- | --- | --- | --- | --- | --- | --- |
| MODEL | LENGTH | WELLS | WATTS | VOLTS | PHASE | AMPS | NEMA CORD/CAP |
| MCT-HC5 | 101½" | 2 | 2400 | 120/208 | 1 | 17.0A | NEMA 14-20P |

STANDARD FEATURES

FRAME : Featuring all stainless steel construction utilizing 16 gauge formed one piece end panels, 14 gauge bottom channels and 1¼" square tubing top frame.
UNDERSHELF: 16 gauge stainless steel with 18" high ends and 6" high back. Undershelf is held back 6" from front panel forming a utility chase for plumbing and electrical services.
CASTERS: Heavy duty 6" diameter plate casters with swivel/brake casters at cashier end and rigid/non-swivel at opposite end.
TRAY SLIDE: DuPont Corian® ½" thick solid surface material mounted on fold down brackets.
TOP: 14 gauge stainless steel with 2" turndowns on all sides and sound deadening applied between top and frame.
HOT/COLD UNIT: [3] well combination hot/cold insulated drop-in unit with drain and globe valve.
SERVING SHELF: 16 gauge stainless steel serving shelf with 1½" turndown on all sides. Supports post of 1¼" square 16 gauge stainless steel tubing. Pre-wired fluorescent light fixture with safety shields and toggle switch control panel.
BEVERAGE WELL: Insulated drop-in cold pan with false bottom and drain with globe valve.
SNEEZE GUARD: ¼" plate glass with polished edges providing clear view of product.
.CONDENSING UNIT: R22 high temperature hermetically sealed unit with expansion valve metering.
FRONT BODY PANEL: DuPont Corian® ¼" thick solid surface front panel.
CONTROL PANEL: All switches to be centrally located in common control panel assembly with fold down front for ease of maintenance and service.
STAINLESS STEEL SPECIFICATIONS: All stainless steel to be type 304 with number 4 finish.

OPTIONAL FEATURES
FRONT BODY PANEL: Plastic laminate as selected over galvanized metal panel.
FRONT BODY PANEL: 18 gauge stainless steel panel.
TRAY SLIDE: 14 gauge stainless steel with formed vee ridges.
For options/accessories/modifications not shown, please contact the factory

Home | What's New | Products | About Us | Contact Info